#1 BRAND ONLINE
Home buyers are online — and one real estate brand gets more of their attention than any other.
The Coldwell Banker® brand is the #1 most-visited residential real estate brand online.*
Website Visits by Brand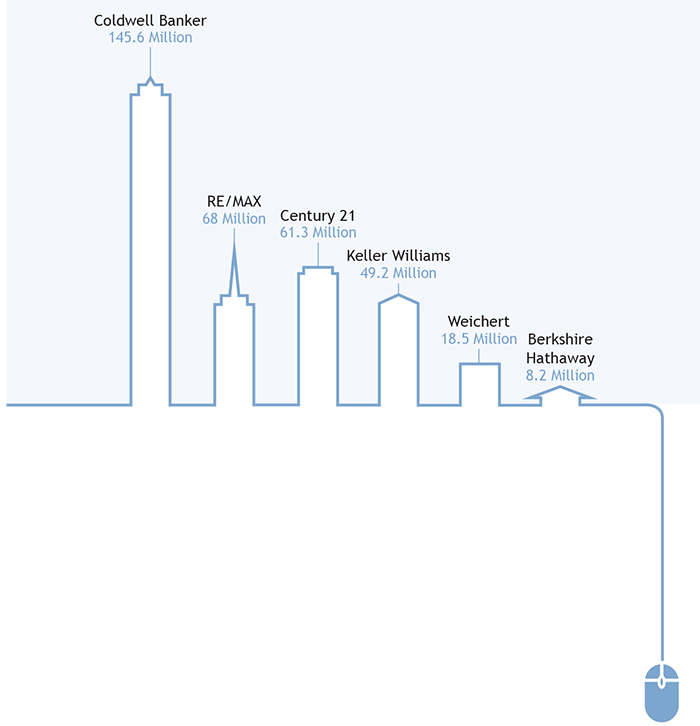 *comScore 2018 Media Trends.
LEADING THE WAY
Over a Century of Excellence
Coldwell Banker Real Estate practically invented modern-day real estate. Founded in 1906 on the principles of honesty, integrity and always putting the customer first, we changed the industry then and continue to do so today.
Global Network
Through non-stop innovation and forward thinking, the Coldwell Banker® brand has grown to become one of the most well-known and trusted names in real estate around the globe. Today, there are more than 92,000 agents working out of 3,100 Coldwell Banker offices in 44 countries and territories.
Wherever your home's buyer might be, we're there, too.

SOCIAL MEDIA INFLUENCER
The Coldwell Banker® has an impressive social media presence designed to engage, entertain and connect with today's home buyers, with more than 500,000 followers across all major social media platforms.